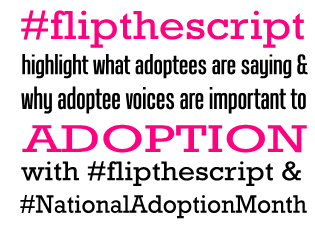 Ready or not, here it comes. This Sunday, November 1, begins National Adoption Month.
National Adoption Month
(NAM) was created to encourage adoption of those children in foster care who cannot return to their families of origin. However during this month, adoption agencies also relentlessly promote adoption of newborns as well as intercountry adoptions. Agencies, adoptive parents, and others call on us to celebrate adoption during November.
Rosita Gonzalez initiated the
#FlipTheScript hashtag in 2014
as a way for adult adoptees to actively participate in National Adoption Month by offering a perspective from those most affected by adoption—voices that historically have been left out of discussions on adoption.
In preparation for NAM 2015, we have prepared a list of prompts to encourage adult adoptees to once again Flip the Script! We hope these daily topic suggestions will jump start your own ideas. Respond to the prompts directly or abstractly. Use them as written or revise them to better suit you. The point is for adult adoptees to talk about adoption from all our many and varied perspectives. The more diverse the responses, the better!
Use these prompts to inspire blog posts or articles or essays or poems. Record videos or songs if you prefer. Post a Facebook status or a couple of tweets if that's what you have time to do. Join the conversation in any way you can! We're looking forward to seeing what you come up with, and we will be sharing your responses on our social media channels throughout the month.
In order for your responses to be seen by the greatest number of people, we recommend tagging them with the hashtags #FlipTheScript and #NAM2015.
Adding any of the following hashtags will also increase visibility: #adoption, #adoptees, #adopteerights. The longer #NationalAdoptionMonth is also used frequently.
Some refer to November as National Adoption Awareness Month, so the hashtag #NAAM2015 is valid as well, however be aware that it's use is not as prevalent as the other choices listed above.
Prompts to #FlipTheScript on #NAM2015
Nov. 1, Sunday
Talk about what National Adoption Month means to you as an adoptee. What is missing from the traditional narrative promoted during each November? Why is it important that adoptees' experiences and opinions are heard during NAM? What does it mean to you to Flip The Script on National Adoption Month?
Nov. 2, Monday
Talk about the "adoptee in the room" moment—that moment when you realize you are the only one in a space who can address a particular aspect of adoption experience, when you have to decide whether or not to speak up knowing that what you have to say may be confusing, unsettling, or triggering to others. Perhaps you have found yourself in this position at a work function, at a family gathering, or while with a group of friends. Or, you may have run into this situation in an online forum or on social media. Did you decide to speak or not, and why? If you did speak, what reactions or feedback did you receive?