Reunited: An Investigative Genealogist Unlocks Some of Life's Greatest Family Mysteries
did not turn out to be the book I thought it would be—and that's a good thing.
I remembered Pamela Slaton from the documentary
DMC: My Adoption Journey
, which follows Darryl McDaniels of the hip-hop group Run-DMC on his quest to find his birth mother. In the film, McDaniels hires Slaton to help locate his mother after he repeatedly hits walls trying to find her on his own.
What I didn't recall was that Slaton is herself an adoptee. She weaves her own search and reunion story throughout
Reunited
, along with the stories of her clients. Doing so gives credibility to her commentary on the fears and motivations of the adoptees and birth parents whose journeys she chronicles.
I had prepared myself for a dry guide on search techniques and instead was swept into the emotional chaos of reunion itself. Within the pages of
Reunited
are adoptees who have searched fruitlessly for years; late-discovery adoptees, including McDaniels; birth parents hoping to find the children they relinquished many years earlier; siblings who have been separated for decades; children and parents learning they have been lied to; and family members found in their final days. There are joyful reconnections and painful rejections and every degree of in-between.
Many of these stories unfold in far different ways than my own, yet there was something in every single one that I could relate to. As Slaton points out, "There's a sense of identity you get from being adopted—a worldview that's unique." I found it easy to empathize with each of her clients as well as with Slaton herself.
Reunited
reads like an anthology of perspectives on the meaning of family. Each chapter concludes with a lesson to keep in mind about the reunion journey, but an overarching theme runs through them all—as Pamela Slaton states so eloquently in the Introduction: "Searching for one's origins means nothing less than validating one's own existence." Indeed.
Note: The author provided a copy of this book in exchange for a review.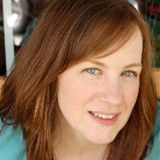 Karen Pickell was born and adopted in Ohio in the late 1960s. She reunited with her birth mother in 2005 and with her birth father in 2007. Her husband is an adoptive father of two children, now grown, from his first marriage, one of whom was adopted from Korea. Karen and her husband live in Florida with their two biological children. She holds a Master of Arts in Professional Writing from Kennesaw State University in Georgia; she has published poems, essays, and stories, and is currently drafting a memoir. She previously served on the board of directors of the Georgia Writers Association, as editor for the Georgia Poetry Society, and as associate editor of the literary journal
Flycatcher
. Karen recently founded Adoptee Reading Resource. She blogs about writing, adoption, and other topics at
www.karenpickell.com
.